The KCI Underground MakerSpace is now getting to the point where we are fully operational. Over the past 5-6 weeks, we have been able to run some smaller programs for specific groups, but now we have all of the tools and material to allow individuals to use the space to work on their own projects. At the head of the list are our fabrication tools...
The Cricut Maker was the first tool we received in our MakerSpace. This small little machine can cut straight and curved lines on paper, vinyl, cloth, leather and balsa wood. The Cricut Maker can also draw images and label items using the pen attachment. Makers will also find that the Cricut Maker also comes with the ability to import patterns from
Simplicity
. You can also design items using the Cricut app on tablet or smartphone and wirelessly connect to the Cricut to cut your patterns. You can see the Cricut in action
here.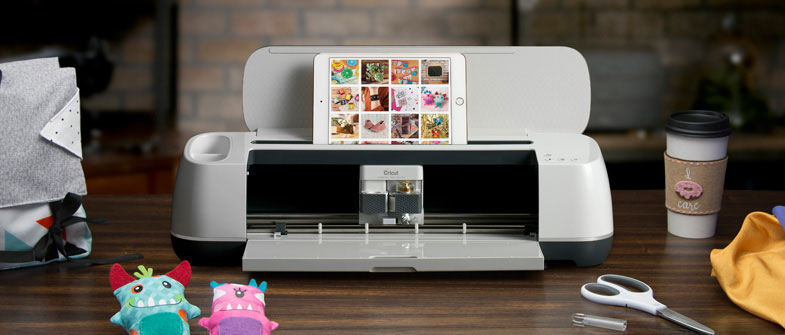 In addition to the Cricut, we also have a Zing Orbit Vinyl Cutter, which can cut on a cylinder and can also handle vinyl up to 24" wide. This will allow makers to design much larger projects, since they can cut items out in a single piece, instead of piecing images and designs together from smaller pieces.
Our two
Carvey CNC machines
provide the ability to carve on flat surfaces and allow the creation of signs, cutting boards, boxes and much more. The included software also allows students to create from their own scanned drawings. A video of what a Carvey can do can be
found here.
We have also increased the number of 3D Printers in our space to six. In addition to our one MakerBot Replicator 2 and two Full Spectrum Laser Pegasus Touch resin based 3D printers, we have added 3 new Dremel 3D45 printers. The Dremel printers will print using the traditional PLA and ABS, but can also print in nylon and in January 2018, the Dremel 3D45 will be able to print in
polycarbonate
.
The last addition to our fabrication tools will be our Laser Cutter. We currently have on order a Universal Laser Systems VLS6.60 Laser Cutter, which we expect to arrive at KCI during the third week of November 2017. This laser cutter can perform a variety of different functions and will provide visitors to the KCI Underground MakerSpace the ability to create some awesome items. To see all of the things that the Universal Laser Cutter can do, check
out this video.
Now, the only question that remains is when are you going to come into the KCI Underground MakerSpace and create something special with our Fabulous Fabrication Tools. Check us out on the web at:
bit.ly/KCIunderground
or on Twitter at:
@KCIunderground
Sneak Preview Open House: This Thursday, November 16, 2017 - RSVP here
Grand Opening Open House: Saturday, December 2, 2017